Well this just sounds crazy . . .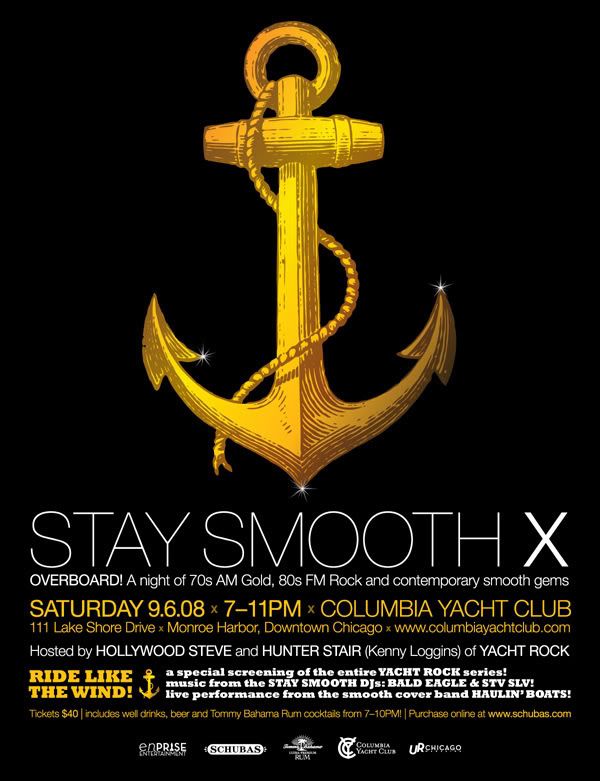 Saturday 9/6/2008
7:00 PM
21+
$40.00
Live from the Columbia Yacht Club in Chicago's lovely Monroe Harbor!
Stay Smooth X: Overboard!
A night of '70s AM Gold, '80s FM Rock & Contemporary Smooth Gems!
with DJs Bald Eagle & STV SLV
and special guest hosts from the cast of Yacht Rock, screening the entire Yacht Rock series, plus a live performance from smooth cover band Haulin' Boats.
$40 - For all this Smooth and a hosted bar from 7 - 10 PM.
But let's hear what
Schubas
has to say about the event:
"After two years and eight and a half Stay Smooth events, Bald Eagle and STV SLV are trading in land for water for their smoothest party yet. Located aboard the Columbia Yacht Club's Abegweit vessel in downtown Chicago, Stay Smooth X will feature DJ sets, a live cover band performing Boz Scaggs, Hall & Oates, Christopher Cross and plenty more plus special guest hosts from the infamous web-based show Yacht Rock as well as a screening of the entire series that introduced smooth music to a whole new generation. While the boat won't set sail, patrons will enjoy a spectacular view of downtown Chicago as well as a 180 degree view of Lake Smoothigan via two open, outside decks high atop the water. From 7-10PM well drinks and beer will be provided, and patrons can also enjoy two specially crafted Tommy Bahama Rum drinks via the Stay Smooth Jet Spray Machine.
Smooth attitude suggested and proper attire requested: captain's hats, jean shorts, short shorts, sailor shirts, knee high socks, friendship bracelets, sunglasses, beards and staches, feathered hair, chest hair and flip flops."